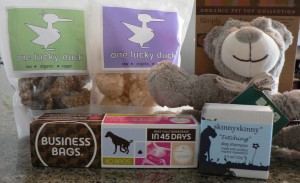 Some of my NYC friends already may be familiar with the raw vegan restaurant Pure Food & Wine. If you haven't been there yet, now is the perfect time of year to enjoy a meal at Pure, with its backyard-garden dining — great food and a great vibe!  Among the dishes to try: King Oyster Mushroom Scallops in Lemongrass Coconut Broth,  Sweet Corn & Cashew Tamales with Chili Spiced Portabella, and — dessert! — the Salted Chocolate Caramel Tart: pecan caramel, dark chocolate ganache, sea salt, and vanilla cream. And Pure, staying true to its full name, has a fantastic wine list, all vegan-friendly.
But the fabulousness of Pure  is not limited to Irving Place, thanks to their One Lucky Duck Juice & Takeaway locations in Gramercy Park and Chelsea. Also, for those of us not in New York at the moment, there's a whole host of treats available via the One Lucky Duck online store. Offering so much more than just gastronomical delights, other shopping categories are Glow (cosmetics, bath & body),Wear (hemp hoodies and bamboo baby socks!), Nest (books, kitchen appliances, and… an infrared sauna for $3,395), and Pet (see my purchases below).
My recent little online splurge:
One Lucky Duck Blonde Macaroons
One Lucky Duck Buckwheat & Hemp Granola
SkinnySkinny's "Fetching" Dog Shampoo
Biodegradable "Business Bags" by Spike
Simply Fido Organic Pup Toy
Since I'm in Tucson and it soon will be nearing the usual summertime 100 degrees again, I decided to pass on the sauna for now.