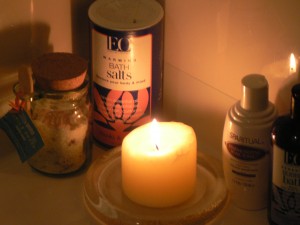 Right now I'm in the middle of law school exams, so I need to make the most of whatever time I can grab in between studying to help reduce stress and keep myself energized. Just fifteen or twenty minutes in one's own bath tub can work wonders. Relax, restore, renew.
But even for those not in school and facing finals, this time of year can be incredibly hectic and stressful. During the holiday season — after working, shopping, and then coming home and cooking — this little indulgence will go a long way to making sure we don't look totally wiped out by the time we get to New Year's Eve.
Here are some of my current favorites for bath bliss. Add a few soy candles and some soothing music (maybe a glass of vegan-friendly wine, if you're not taking exams).
Bonus Tip!
Mask-imize your relaxation by freshening up your face at the same time. While I'm soaking, I like to treat myself to an at-home facial. Alba Botanica makes some great ones that are the perfect inexpensive pick-me-up, and they're available at so many stores — from Whole Foods to Walgreens. In the winter months, when my face needs extra nourishing, I use the Deep Sea Facial Mask (4 oz. tube is only $9.95); in summertime, I like the Papaya Enzyme Facial Mask.