Last week, my husband Seth was surprised by his new team with a gift basket. After just having met many of them for the first time, during an offsite retreat  — during which time they shared a few meals and therefore learned about Seth's vegan lifestyle — Seth received a lovely follow-up "welcome": a fair-trade, hand-made grass basket from Bangladesh, filled with all vegan goodies, arranged and delivered by Garuda International.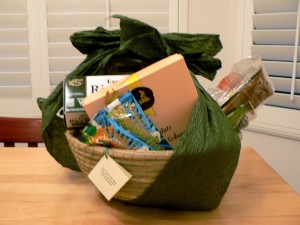 The basket included:
I have to thank the team myself — I'm definitely enjoying my share of the goods! It's been fun for me to sample some products that I've never had before, such as the Primal jerky. Which got me thinking: vegan gift baskets are wonderful to give anyone, from the well-seasoned vegan to an omnivore friend. A basket will have plenty to choose from, so there's something for everyone. Besides purchasing a basket from a company like Garuda, there's the option of creating a basket ourselves, filling it with things we love and think our friends would enjoy as well.
Whether it's to welcome a new colleague, offer as a housewarming gift, celebrate a birthday or any other holiday, a basket filled with delicious treats is bound to bring a smile. And who knows… the recipient may discover some new cruelty-tree favorites of his or her own.
Thanks again to Seth's new team for the basket, and for the thoughtfulness behind the gift.
*also gluten-free!