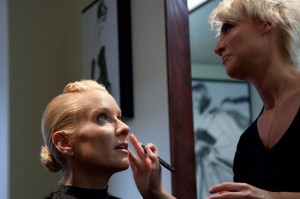 While I was in Los Angeles for The Genesis Awards, I needed to have my hair and makeup done for the event. I wanted to find a place near our hotel, The Beverly Hilton; I also wanted to ensure that whatever products the salon used would be cruelty-free. As many of you know, I've been a fan of Aveda products and salons for a long time, so an easy way for this out-of-towner to find a place for prettying up was by checking out the Aveda site.
There were a few locations listed on the Aveda web site that were within just a few miles of the hotel. After a little extra searching on the internet for some customer reviews, I decided on Fabulous Stylez on Melrose Avenue in the West Hollywood neighborhood.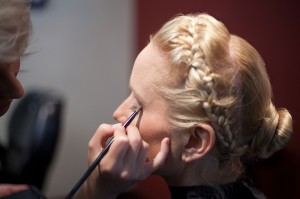 First, Ashleigh did my hair in an up-do inspired by the hairstyle worn by actress Berenice Bejo at this year's Academy Awards. (This proved particularly fitting, as I ended up hanging out with the canine star of The Artist, Uggie, later that evening.) After my hair was taken care of, Alexia worked some make-up magic.
Thanks to both ladies at Fabulous Stylez for helping me get ready for a truly fabulous evening.
Bonus tip!
I've visited Aveda salons in several cities. If you find yourself in a town you don't know very well and you need a hair cut, a touch up, or an up-do, Aveda is like an old friend you can always count on.
NOTE: After posting this, one of our CFF Facebook friends pointed out that Aveda is owned by Estee Lauder, a company that still tests on animals. Although Aveda operates as a separate entity and is admirable for its own stance against animal testing, I'm hoping its parent company gets on board with cruelty-free soon!