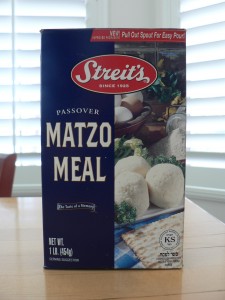 While I will be celebrating Easter this Sunday, many of my friends will begin the celebration of Passover this weekend. One of my favorite cookbooks, Vegan Holiday Kitchen by Nava Atlas, includes recipes for two seder menus:
An Ashkenazic Seder
Mock Chopped Liver (cashew, onion, and mushroom pate)
Simple Vegetable Soup with Vegan Matzo Balls
Vegan Matzo Balls
Traditional Haroset
Spectacular Spring Salad
Spinach, Leek, and Potato Matzo Gratin
Quinoa Pilaf
Sauteed Asparagus & Broccolini
Passover Fruit Crisp ot Chocolate Matzo Brittle, or Coconut-Almond Macaroon

A Sephardic-Style Seder (includes legumes and grains other than wheat)
Sephardic-Style Date Haroset
Moroccan-Style Vegetable Soup with Vegan Matzo balls
Green Salad w/ Artichokes, Oranges, and Pickled Beets
Eggplant Matzo Mina
Morroccan Carrots
Sephardic Stewed Green Beans
Just to tempt you, here's the recipe for the Mock Chopped Liver, which I've tried and love. It's easy to make and a delicious substitute for  liver pate. I hope you'll check out this cookbook and also be inspired to look for other cruelty-free alternatives to enjoy this Passover!
* * * * * * * * * * * *
Mock Chopped Liver (cashew, onion, and mushroom pate)
ingredients:
2 tablespoons olive oil
1 1/2 cups chopped onion
1 cup sliced baby bella or crimini mushrooms
2/3 cup toasted cashews
1 tablespoon lemon juice
salt, pepper, and paprika to taste
finely minced fresh parsley for garnish
directions:
Heat oil in a small skillet. Saute the onions slowly over medium-low heat, stirring frequently until nicely browned. Add the mushrooms and continue to saute briefly until wilted.
Combine the onion mixture with the cashews and lemon juice in a food processor. Process until smoothly pureed, scraping down the sides of the work bowl as needed. Season with salt and pepper and additional lemon juice if desired, and pulse on and off to work into the mixture.
Transfer to a serving dish and cover until needed. If making ahead of time, store in the refrigerator and bring to room temperature before serving. Just before serving, sprinkle the top with paprika and parsley.
Serve with raw vegetables and matzo crackers.