I have so many favorite movies, several that feature animals and tell stories about our bond with them. Key to my enjoying such films is knowing that they have been made without exploiting the animals themselves. Here are a few films I highly recommend.
Big Miracle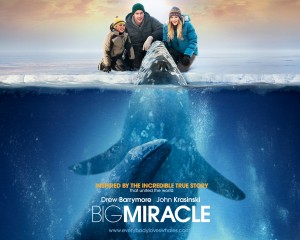 Is there anyone out there who doesn't have at least a little crush on Drew Barrymore? She's as cute as ever in this film based on a true story about efforts to save a family of whales trapped under the sea ice in Alaska. And that guy from The Office is pretty likable, too. This recent film does a great job of showing how people with very different interests can still come together to help animals in need. Greenpeace and oil companies working together?! Yes, it's an uplifting film that's perfect for "date night"; or the whole family can enjoy this one together, and it should stimulate some thoughtful discussion afterwards.
Watch the Trailer:
Chimpanzee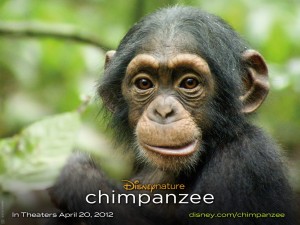 This one just hit the theaters a few weeks ago, coinciding with the 2012 Earth Day celebration. Kudos to DisneyNature for making a donation to the Jane Goodall Institute for every ticket sold during the film's opening week. I was among those who went opening weekend — a great Sunday matinee experience with my husband Seth and my parents. In just 78 minutes (that goes by very quickly), the audience gets a glimpse into what life is like for chimpanzees in their natural habitat.  The baby Oscar will melt your heart, and the film does a good job of showing how these animals bond with each other as extended families. The kids in the audience were loving it as much as the adults. I applaud DisneyNature for this and its other films that let us connect with animals and share with children just how amazing animals are — a wonderful alternative to taking them to the zoo.
Watch the trailer:
Dolphin Tale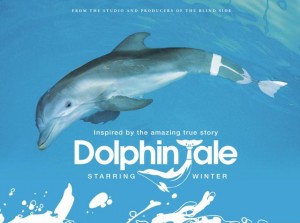 This film was one of this year's nominees at The Genesis Awards, which recognizes major news and media for producing works that raise awareness of animal issues. Based on the true story of a dolphin named Winter who lost her tail, Dolphin Tale provides another example of people working together and doing extraordinary things for animals. Morgan Freeman is the one developing a prosthetic tail for Winter — which she will need to survive. Meanwhile, Ashley Judd, Harry Connick, Jr., and two adorable kids become Winter's friends and support system as the dolphin faces the challenge of learning to accept and use the prosthesis. It's a terrific cast, but Winter — the real-life inspiration who also stars in the film — steals every scene. If you just need a feel-good movie one night, something that will bring a few happy tears but will leave you feeling hopeful, this is the movie pick for you.
Watch the trailer: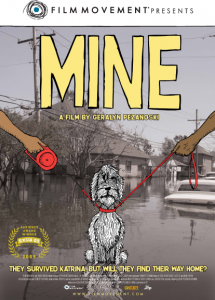 Mine
This documentary came out several years ago, but I would be remiss if I didn't include it here as a favorite. Mine tells the story of Hurricane Katrina animals who were rescued and re-located, and the incredible efforts to reunite them with their New Orleans families. There are plenty of interesting twists and turns in this film, including the ownership issues raised when some of the new families — who had these animals for more than a year — don't want to give the animals up. Property law and family law issues come together to create a dilemma that doesn't require a legal background to fully appreciate. And out of the chaos and heartbreak, some beautiful stories emerge about the human-animal bond. A must-see, available on Amazon and Netflix.
Watch the Trailer: