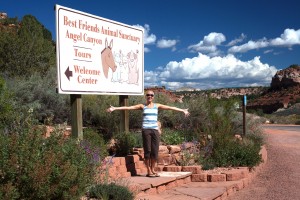 I was fortunate enough in September to spend some time volunteering at Best Friends Animal Sanctuary in Kanab, Utah.  The sanctuary serves as the headquarters for the 30 year-old organization Best Friends Animal Society, which launched the no-kill movement and facilitates adoptions and spay/neuter programs nationwide. In addition, BF works on initiatives related to puppy mills, pit bull/breed discrimination, and TNR for feral cat colonies.
Nestled in Angel Canyon, the sanctuary is a slice of heaven where, at any given time, about 1700 animals are being cared for by the Best Friends staff. Although most of these animals are dogs and cats that are waiting for their forever homes, the sanctuary also takes in barnyard animals (horses, goats), pigs, bunnies, parrots and exotic birds, and wild life. Some of the animals have special needs, some have come from situations of abandonment or neglect. With the exception of the animals in the Wildlife department, all the animals are adoptable. The miracle here is that there is no clock ticking against them: the sanctuary, then, functions as the largest no-kill shelter in the country; in this idyllic setting, the animals are ensured whatever they need — physical, emotional, and psychological needs — for as long as it takes to find them a family. To spend time in such a gorgeous place with these animals, and the very special people who spend their days caring for them, was extraordinary.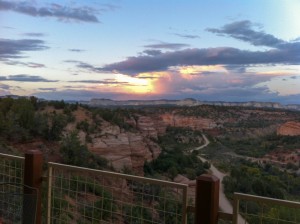 The sanctuary is a scenic four-hour drive from the Las Vegas airport. Kanab is a great little town in its own right: this "Little Hollywood" was the location for more than 100 western films. The main street, lined with quaint shops and cafes, showcases a "western" walk of fame that features familiar faces such as Ava Gardner and Gregory Peck; and there's a museum that houses pieces of old western movie sets. Zion National Park, Bryce Canyon, and the Coral Pink Sand Dunes are all just short drives away — we wrapped it all together into one great Utah trip.
While the 90-minute tour of the sanctuary is alone worth a trip — some 3 million people visit each year — it was even better to spend a few days there and volunteer. There are plenty of places to stay in Kanab, about 10 minutes from the sanctuary; but if you book well in advance, you can have the added pleasure of staying right on the sanctuary's premises, as we did, at one of its cabins or cottages. And here's a tip: whether you are staying on site or in town, lunch at the cafeteria in Angel Village is an absolute must — both for the excellent vegetarian fare and the spectacular views on the outside dining patio. It may be the best $5 lunch on the planet!
So what exactly are you signing yourself up for when you volunteer at Best Friends? After a short volunteer orientation session, you can choose your shift or shifts (morning/afternoon) and where you would like to work. Places to choose from:
Dog town
Cat World
Horse Haven
Piggy Paradise
Bunny House
The Parrot Garden
Wild Friends
Volunteer shifts run about 3 or 4 hours, and the staff does a great job of providing meaningful tasks that are not too taxing. Many of the volunteers during our stay, in fact, were retired individuals. The staff also recognizes that visitors coming to the sanctuary are drawn to it because they want to interact with the animals. So there's always plenty of time to set aside the shovel or the buckets to just be with the animals. Lots of time for belly rubs and scratches behind the ears.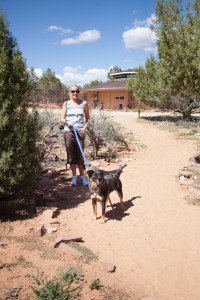 My husband Seth and I wanted to explore as much as possible, so we managed to work shifts at five of the sanctuary areas. Honestly, we could have done five shifts just in Dogtown, which has separate areas for puppies, adults, and seniors ("Old Friends"). Some people are familiar with Dogtown, thanks to the recent television series on the National Geographic channel. We spent our shift at one of  the adult dog octagons. Our shift work mostly entailed taking individual dogs out for a picturesque 30-minute walk on a nearby trail. We also got to play with some of the dogs in their smaller runs that are situated right behind the octagons. It was here we met Wiley, Violet, Oscar, and our beloved sleepover guest Harpo.
Sleepovers are encouraged as a way giving dogs, cats, and pigs some extra one-on-one affection while they are waiting to be adopted. You must have volunteered for at least one shift in the area before hosting a sleepover animal. I cannot recommend it highly enough; it's sure to be a highlight of anyone's BF experience. And Harpo now holds a special place in my heart forever.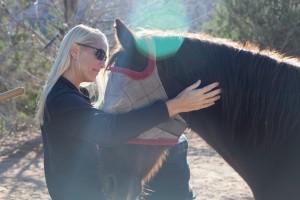 Our morning shift at Horse Haven started out with a brief orientation before we went to work shoveling up manure around the fields. It was a cool, crisp morning and it was wonderful to just be out there with the horses, lending a helping hand. I may be a city girl, but I just love everything about getting my body moving in the morning air — with the horses right there with me,  just going about their day. We also got to groom a few of the older horses, which was a wonderful way of getting some quality time with such majestic beings. Seth was particularly moved to meet one horse who reminded him of his own horse from his childhood.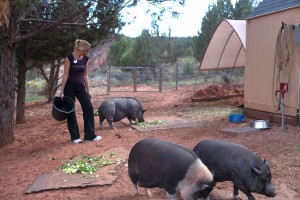 Have you ever given a pot-bellied pig a belly rub? Well, at Piggy Paradise an integral part of anyone's shift work — if the pigs have anything to say about it — is going to be belly-rub time. In fact, they'd probably be happy for a whole four-hour session. Just like your family dog, a pot-bellied pig will roll over, smile, and even start shaking a leg when you rub just the right spot. We also were able to take a couple of pigs for a walk — no leash required. They seem to understand Italian: whenever they would stop at the side of the path to eat some of the grass, I would just say "Andiamo!" and pat them on the side to get moving again. What fun! We finished up our shift by preparing their dinner of alfalfa pellets, carrots, and heads of lettuce. Think pigs are messy? Nope. We distributed the buckets of food on individual mats, and the pigs ate it all up in quite an orderly fashion… with just a few wandering to someone else's mat looking for a little extra when they had finished with their own.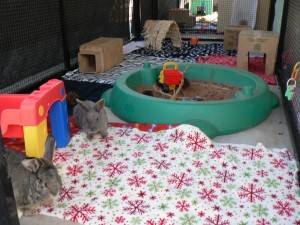 At the Bunny House, which had about 100 rabbits while we were there, we first enjoyed a walking tour of the place. The rabbits are given plenty of space in large pens that each look like miniature playgrounds. The floors are covered with soft blankets, and there are ample toys and tunnels and things for nesting. Each pen is home for two bunnies, because bunnies are social creatures. In addition, Bunny House has a great "yard" — a larger open space, where bunnies are given time to roam. (The sanctuary is just starting to build a new center for its rabbits, which I'm looking forward to seeing my next visit.)
For our shift work, Seth and I went into each pen and removed all the playthings so that we could replace the underlying blankets after a quick sweeping. Bunnies are known for their rate of multiplying, but the rate at which they can produce their raisin-like poop is also pretty impressive! As menial as this work may sound, it actually was tons of fun.  The clean up was quick and easy, and then we got to select from an ample supply of fresh and clean colorful blankets before re-organizing everything. The bunnies most often would disappear using their little bunny-doors while we did the housekeeping; but as soon as we placed the last little toy down in their pen, they would come running back out, curious to see our redecoration. And, yes, we were able to cuddle with a few while we were there.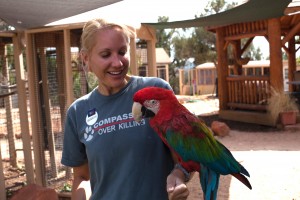 After our trip was over, I asked Seth what he liked the best about our stay at the sanctuary. "Impossible to choose." OK, what stands out to you? "Parrot Garden." Seth said he was surprised by how he immediately felt such a strong connection with the birds.
Wearing my Animal Law cap, I'd previously been to a couple of presentations that focused on parrots. First, there is a huge issue of parrot/exotic bird smuggling going on in this country. Second, the long natural life of these birds creates a problem when their guardians die without providing for them with some kind of pet estate planning. Although I'd never thought of myself as a "bird" person, I knew when I arrived at Best Friends that Parrot Garden was a must.
As I expected, each of these birds is beautiful,  intelligent, and full of personality. For example, King O, the first bird to greet me: when I walked into the small office to put down my bag before getting to work, I heard tapping on the window of the door that separated the office from a larger holding area. Next, I saw a small white, very frazzled face. "HELLO!" He said it a few more times. I say frazzled, because King O is missing most of his feathers; he started self-mutilating out of distress when his caregiver passed away. But this little guy — as frazzled looking as he is — is one of the most vibrant personalities I've ever met. Check out King O on YouTube, and you'll see exactly what I mean. He talks, he dances, and he is instantly lovable! Also, I learned something from another parrot: when you tell a parrot how beautiful he is, you can make him blush! I couldn't believe my eyes as I watched all the little capillaries in his white face fill with red, and then his whole face go pink… all because I was going on and on about how handsome he was. Amazing.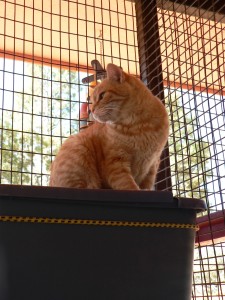 Times goes fast volunteering at Best Friends. We didn't have time for shifts at Cat World and Wildlife Friends, but we were able to tour both places. Cat lovers would be in heaven at Cat World, just as the kitties are: enclosed outdoors rooms are filled with places to climb, explore… or settle in for a nap. At Wildlife Friends, animals are usually here for the long term, unable because of injuries or circumstances to be released back into the wild. But the Best Friends staff ensures a wonderful quality of life for them here, and it's fascinating to see a barn owl or a raven up close this way. The tours that each area gives (separate from the 90-minute general tour of the sanctuary) last about 45 minutes, and they are as informative as they are fun.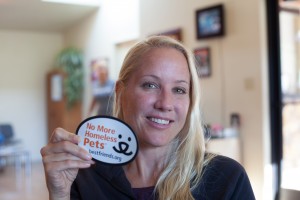 I could go on and on about our time at Best Friends. Whether you're traveling solo, want to visit a special place with a partner or friend, or have a family with kids, Best Friends Animal Sanctuary and the surrounding Utah area is a wonderful vacation destination that also will allow you to put some positive karma back out into the world. If the kids are nine years old, they're old enough to volunteer, too. And what better way to help animals than to get the next generation helping and loving them, too.
For more about our trip to Best Friends Animal Sanctuary, check out my previous posts: The Blessing at Angels Rest and Happy for Harpo!