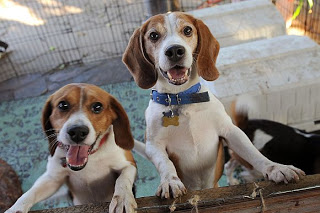 When I adopted my beagle Pushkin, during one of our initial meetings with the veterinarian at the Bideawee center, a nurse casually asked me: "Is that one of the beagles they rescued from the lab in Pennsylvania?" I never did confirm this possible backstory, but it stuck with me; eventually, having a beagle as a family member and the thought of other beagles in laboratories was what prompted me to oust all animal-tested products from my home.
The sad reality is that beagles are the most popular breed for lab use, specifically because of their gentle and forgiving nature. Beagle Freedom Project was founded by Los Angeles attorney and animal advocate Shannon Keith. Its mission is rescuing and finding homes for beagles that have been used in laboratory research. And, just so you don't confuse BFP with more radical groups — visions of laboratory break-ins dancing in your head — BFP works directly with laboratories, who often attempt to find homes for adoptable, healthy beagles once they're no longer needed for research.
Here's a video of BFP's most recent rescued beagles, from a lab in the Midwest:

Meeting Frederick & Douglass, Two Very Special Beagles
During our most recent trip to Los Angeles, my husband and I had tons of fun catching up with friends Kezia Jauron and Gary Smith — otherwise known as the power couple behind the public relations agency Evolotus. Kezia and Gary have been amazing in helping us spread the word about Letters To Pushkin; business aside, they're just two great people doing incredible things on behalf of animals. Among their many efforts, they are huge supporters of Beagle Freedom Project. Having dinner at their home, we had a chance to enjoy great food and drinks… and the company of Frederick and Douglass, two beagles rescued by BFP from a lab in Spain that have become part of the family. LOVE!
Support Beagle Freedom Project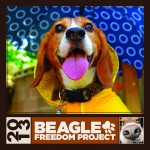 If you're interested in fostering or adopting a lab beagle, please contact Beagle Freedom Project. Another easy way to support BFP is by purchasing the 2013 Beagle Freedom Project calendar, which features one adorable picture after the next of the rescued pups. Or shop at BFP's online store for other merchandise, such as t-shirts, posters, and totes — great ways to give this organization a few dollars and spread awareness.
Update 11/19/13: The 2014 Calendar is now available!
Today I say Happy Birthday, Douglass, and also want to let you know that the new Beagle Freedom Project Calendar for 2014 is now available. Beagle Puppies! Click HERE for more info and to order.