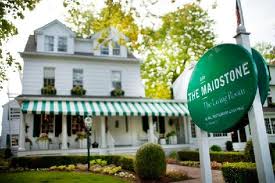 Our companion animals Otis and Galileo deserve a respite from the city as much as we do. Lucky for us, c/o The Maidstone in East Hampton offers the perfect family getaway for all of us.
This boutique hotel's rooms are named after various Swedish authors and artists, and come with a nice supply of bath and body products by Malin + Goetz.  The Maidstone makes every aspect of one's stay relaxing and dog-friendly, including suggestions about where to enjoy some beach time with the pups or places to explore in East Hampton and the neighboring towns with them. Late afternoons, it's time for "Yappy Hour" in the cozy lounge or on the patio; sip one of Leandro's amazing Strawberry Mojitos while the pups enjoy something off the Woof Menu. And, in the evening, the four-legged guests are invited to dine along with you in The Living Room Restaurant. The Living Room embraces the slow-food philosophy and is vegan-friendly, with plenty of fresh, local produce at work in the kitchen. For dinner there on our most recent visit, we started with the amazing Living Room Salad (love the pine nuts and shaved zucchini!) and then each had the roasted root vegetables entree.
Beach time!
In the mornings and early evenings, we enjoyed long family walks on Main Beach, just three minutes from the hotel. (During summer season, dogs are allowed on the beach before 9am and after 6pm.) Other great spots for some beach time with the pups: the area surrounding Montauk Lighthouse, undeveloped coastline with pretty views into the horizon, and Maidstone Park Beach, secluded and serene.
The Faves List (updated April 2015)
The Hamptons has so much to offer when it comes to dining, wining, and relaxing. Here are some of my favorites — from the upscale dining experience to the super-casual neighborhood coffee joint.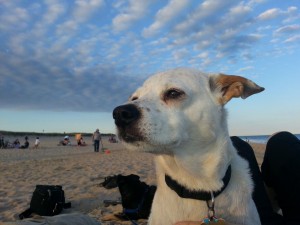 Local Produce!
Don't miss out on all the local farm stands, including several right along Route 27.  Especially because this is my first summer back on the east coast after several years in Tucson, I have been so delighted to be back in a place where "local" doesn't mean miles and miles away (usually California or Mexico).
On the way back to the city, I loaded up my market bag with fresh vegetables, all locally grown. One of our first treats back home: Field Roast grain sausage sandwiches on Italian bread piled with fresh grilled onions and peppers. Other goodies in my bag: cucumbers, tomatoes, Vidalia onions, baby white Portobellos, sweet corn, eggplant, zucchini, yellow squash, and cantaloupe. Check back with me next week, when I'll share my recipe for what I'm calling my Route 27 Salad.