A couple of weeks ago, I was in Hartford for Voices for Animals Day at the State Capitol Building, organized by the ASPCA. Connecticut citizens gathered to speak with their individual legislators in support of prohibiting the sale of puppy-mill puppies in new pet stores (and phasing out sales in the sixteen pet stores that still have them). The day started with a welcoming breakfast and — wow — what scrumptious vegan goodies The Nutmeg Cookery had put together for us. A perfect start to the day while people mingled before the press conference and presentation.
If you're in the Hartford area, I hope you'll keep in mind The Nutmeg Cookery if you're looking to bring a little extra special vegan love into your home or office. Jenny and her husband mostly work as personal chefs but, as you can see, they are a dynamic duo for events, too.
Voices for Animals Day and other "Lobby Day" Events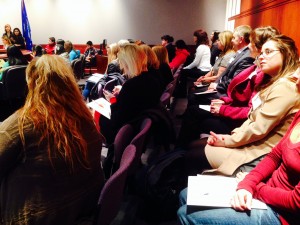 If you have yet to participate in a Lobby Day event at your state capital, I highly encourage you to do so.  They are so uplifting — how inspiring and empowering when kids and adults come together for a few hours to lend their voices on behalf of the voiceless. For kids and adults alike, it also can be both fun and educational. Most of all, it's incredibly rewarding to meet with your local representatives or their staff members in person.
So how do you know when events like these are happening in your own community? Here's one easy way: sign up for the ASPCA's Advocacy Brigade. And, if you're in New York, you can count on seeing me in Albany in May.