A while back, someone on the CFF Facebook page asked about cruelty-free bar soaps, and there were some great suggestions. Although I've already written about bath products that are faves (bunches to explore in the Personal Care & Cosmetics category!), I decided to break away from my tried-and-true to check out some other products so I could share new finds with you…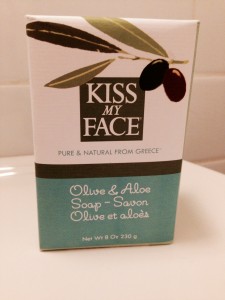 Kiss My Face
I'm a big fan of many KMF products: always good quality, relatively inexpensive, and pretty easy to find at local stores and pharmacies. The olive-oil based bar soaps are no exception. The Olive Oil/Aloe is my favorite, but the unscented is a good one, too.
LUSH
Bubble Bars and Body Melts take soap to a whole new — and fun! — level. So many of my friends, vegan and non-vegan, are huge fans of this Australian-based company that's taken the US by storm. If you're lucky enough to have a store nearby, treat yourself to a browse. It's kind of like a grownup's candy store.
Strawberry Hedgehog
Thanks to my lovely friend Kezia for turning me onto this line of handmade soaps! I had to order mine online because my local Whole Foods is not one of the locations that carries them. Bar soaps include Lemongrass-Ginger, Ginger-Peach, Strawberry Basil Lemonade: I'm hardly opposed to using anything on my skin that sounds yummy. That said, some of the other less fruity bar soaps are equally enticing. Among the many choices, I added a Bamboo Detox bar to my online shopping cart. And to smooth on the body after a bath, try SH's Organic Whipped Creme: a thick, heavy-duty moisturizer that I've been using on my feet, knees, and elbows for some extra TLC.
Dr. Bonner's
An old standby all-purpose soap. In the past, I've especially liked the Baby-Mild Unscented and the Almond soap bars. Here's the rub, though: if you're going to use Dr. Bronner's, buy the liquid soap rather than the bar — the bars have palm oil in them. Although palm oil is not derived from animals, palm oil production is responsible for decimating the natural habitats of orangutans and elephants, leaving many little ones orphaned. The liquid soap, on the other hand, is palm oil-free… so, still a great cruelty-free alternative.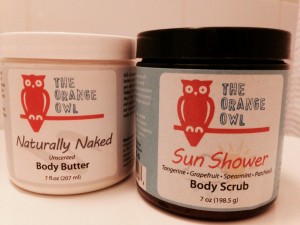 The Orange Owl
Here's a company that offers a wide range of products with which to pamper yourself. The bar soaps come in some lovely fragrances: at the moment, I'm in love with the Masala Chai. Looking for a good body scrub? "Sun Shower" sugar scrub combines tangerine, grapefruit, spearmint, and a hint of patchouli. And now that we're all exfoliated, we can top off our indulgence with one of The Orange Owl's body butters. I've decided to stick with the  "Naturally Naked" so as not to compete with the body scrub's lingering scent.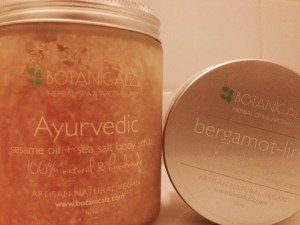 Botanicalz
If you prefer a salt scrub to a sugar scrub, Botanicalz has two amazing jars of happiness waiting for you. First, there's the Pink Himalayan. Anything that gets me reminiscing about my days traveling around Nepal and Tibet is an automatic winner; but the "Ayurvedic" is destined to be a staple in my household. From an ayurvedic perspective, sesame oil has amazing healing properties, is particularly great in dry or colder months, and… to get all yogini on you for a minute… it's especially good for those with a Vata (wind) disposition. I also highly recommend the Bergamot-Lime Whipped Body Butter by Botanicalz. Keep it in mind for next summer. It's light, refreshing, and smells kind of like a margarita — what could be more perfect for sunshiny days?
Kaeng Raeng – Detoxfoliant Body Scrub
I'm a regular when it comes to the Kaeng-Raeng Cleanse. Pretty much once a month, I'm Kaeng-Raenging (yes, we actually have turned it into a verb in my home). As if we needed any proof of my loyalty, the company sent me a free jar of its new body scrub to try. So now, when I'm doing my 3-day cleanse to "clean up" inside, I also will be detoxing on the outside with this super stuff. Thanks, KR!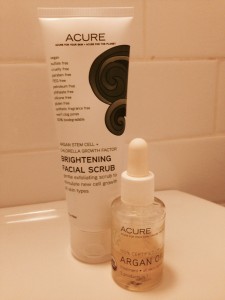 Acure
I discovered Acure and the magic of argan oil thanks to a swag bag from a Humane Society of the United States event in Los Angeles. Argan oil is for the face, hair, and body; all it takes is a few drops of this stuff to work wonders. Now, I'm devoted to using it during the winter months, and also whenever I've been traveling a lot (airplanes = dehydration). And while we're talking about Acure… I more recently discovered its Brightening Facial Scrub, and I'm loving it.
Have you seen my new book, Stellar Vegan Salads yet?
Available now on Amazon and also for your iPad. Check out sample pages and order your copy today!
abhyanga, the daily ayurvedic self-massage. It is rich in linoleic acid, and has anti-bacterial, anti-inflammatory and antioxidant properties. – See more at: http://www.mapi.com/ayurvedic-knowledge/massage/ayurvedic-benefits-of-sesame-massage-oil.html#sthash.GI6VIefr.dpuf
abhyanga, the daily ayurvedic self-massage. It is rich in linoleic acid, and has anti-bacterial, anti-inflammatory and antioxidant properties. – See more at: http://www.mapi.com/ayurvedic-knowledge/massage/ayurvedic-benefits-of-sesame-massage-oil.html#sthash.GI6VIefr.dpu